For more than 120 years, Izzy's has been serving up the World's Greatest Reubens.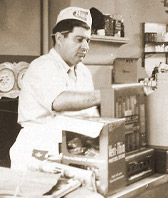 Our story starts in the late 1800's when a couple of Jewish immigrants left behind an economic depression and oppression politics of the Czar from Russia. Like many at that time they felt the New World offered them a real chance to succeed and be free. Settling in Cincinnati Mr. Kadetz offered his flair for cooking at the renowned Sinton St. Nicolas Hotel in Cincinnati. With his confidence in culinary expertise and not being afraid of taking risk he opened the first kosher style delicatessen West of the Alleghenies. His legacy has lived on tracing back to the start in 1901.
The stiff-necked and stubborn character of Izzy often left people with many memories. Whether it was the shouting back and forth between himself and his wife Rose, or the price of food that varied depending on what you were wearing and if you looked like you had extra money to spend. Izzy's boisterous style coupled along with the savoring food left many Cincinnatians with great food and good memories.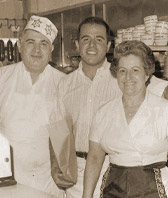 In 1980 Izzy's son David began running the restaurant. David carried much of the same qualities possessed by Izzy and soon grew the reputation and business of Izzy's tremendously. In 1982 David opened a second restaurant on Sixth and Main Street in downtown Cincinnati, and he asked trusted friend John Geisen, then a skilled tradesman, to manage the location.
John worked closely with the Kadetz family, who took him under their wing and began to instill their family and business values. John came to understand that the secret to Izzy's success was rooted in offering superior quality along with the highest level of customer service.
Together John and David helped grow the business over the years and John Geisen became the President and CEO.
John embarked on a mission to instill his passion for quality on everyone at Izzy's—from the store managers to the front line staff. This "can-do" culture can be seen everyday at all Izzy's locations, whether it's a simple request for a special sandwich, or catering a party for 200 guests, Izzy's employees understand that the customer is King. This passion for pleasing patrons easily explains the fierce loyalty shared by so many fans of Izzy's.
Consistently ranked as the "best deli in Cincinnati", visitors to this tri-state tradition soon realize that Izzy's offers a unique experience that blends great food with friendly and attentive staff, all while maintaining the highest in quality and value.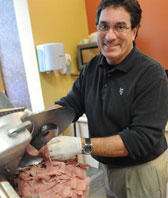 But the Izzy's family is not content to rest on their laurels; from serving on old pickle barrels with wood crates as chairs to the latest location having a drive-thru, modern lighting, comfortable seating and the latest innovative cooking equipment still serving the same homemade recipes Izzy Kadetz was handed down from his father dating back to 1901.
The future of Izzy's will undoubtedly bring John's passion for value and service beyond the tri-state. He remains eternally grateful for his fortunate relationship with Izzy, David, Rose, and the entire Kadetz Family. Upon reflecting on his time with them, John recalls back to the 80's when he asked them, "Do you know what you get when you mix a Jew and a Catholic?"
The answer was a simple reply: "Success!"