Work at Izzy's
Working for Izzy's is about making hungry people happy! It's about being independent and having fun, making new friends and earning extra cash. We remain closed on Sundays to ensure our employees can have a day with their families, as well as close our locations at 9pm. You'll meet new people, get recognized for your efforts, learn new skills, and become part of the Izzy Kadetz Family.
What are we looking for?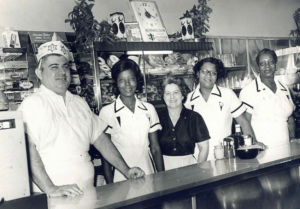 The good news is that your training will teach you everything you need to know to succeed on the job. But there are a few skills you should already have before you apply:
Be a fun and friendly person who values customers and takes absolute pride in everything you do. We look for folks that are honest, energetic and fun, never short of a smile and take real pride in your work. You need to cope well under pressure, thrive on a challenge, present a positive attitude, and understand the need to be on time, all the time.
Our employees understand that work is easier – and more fun – with some teamwork.
If you are at least 18 years old and meet those criteria, we invite you to apply. We've got great jobs for people just starting out in the workforce, looking for a flexible second job or staying in the workforce after retirement.
Become part of the Izzy Kadetz family, fill out your Application Online Today!