Izzy's Gift Cards
Give a gift of the World's Greatest Reuben or any other Izzy's Favorite.
The Izzy's Gift Card is available at all locations. It's the perfect gift idea for holidays or any special occasion.
Izzy's Gift Cards are available in dollar amounts from $5.00 to $100.00. They may be used for any menu items, including our Famous Corned Beef, homemade soups, potato pancakes, and other specialty items.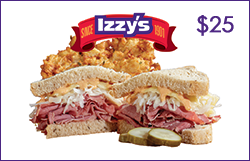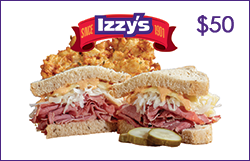 About Izzy's Gift Cards and Certificates
Gift Cards work the same as cash at any Izzy's location. If your purchase exceeds the unused balance of the card, you must pay the excess at the time of purchase. Gift cards may be used multiple times. Check your balance or reload gift card at any of our locations. Gift card cannot be redeemed for cash and no change given unless required by law. Card cannot be used for gratuities nor for online orders. The card can be replaced if lost or stolen: simply bring us a copy of your original receipt. If you have any questions, please call 513-369-0245.